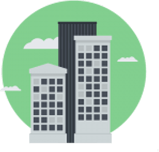 Compare Commercial Electricity Rates in New Hampshire
And Start Saving Today!
New Hampshire allows you to choose your electricity and natural gas providers. You can choose a green energy option if you would like, a low-cost option, or predictable monthly bills with a long-term, fixed rate. Enter your ZIP code below to find out your choices.
In the boxes below, please select gas or electricity for Energy Type. For Service Type, if you spend less than $2,000 a month, select "Small Business"; for over $2,000, select "Commercial".
Utility Discount Concierge Service
If you prefer, utilitydiscount.com can handle the bid and contract process for your business account with our Concierge Service. Supplier terms are negotiable and fixed supply is not always the best option. Utility Discount can often assist businesses with no credit or a poor credit history obtain very fairly priced supply contracts. For larger and more sophisticated customers standard "fixed price" contracts may not be optimal. Depending on an account's needs, usage patterns and market conditions, day-ahead pricing or block and index contracts may provide significant savings.
Commercial Energy Contract Pointers for Electricity in New Hampshire
For the average business, a secure low priced, fixed rate, "all in", electric power supply contract is probably the most sensible. Fixed rate contracts prevent budget busting surprises. Given that electric power rates are near historic lows, there is little reason for most customers to be creative when structuring power purchase agreements. The main exceptions are larger users who have an ability to curtail and are sufficiently-staffed to actively manage power use.
When Should the Contracting Process Start?
Consideration of a new power contract four to six months prior to the end date of an existing contract is prudent. Market fluctuations are common, so it is to your benefit to avoid facing the pressure of an expiring contract.
Review the current contract to determine when the current contract ends and what, if any, notification of nonrenewal need be provided to the current supplier.
The price of energy is just the starting point. The contract terms must be understood to properly evaluate the best offer. If your electric bill is a sizable portion of your budget or you simply prefer the service of an expert consultant please consider our Concierge Service.
Clauses to Understand When Considering A Contract
Each provider has its own form contracts. Some are better than others, but all have adverse terms that affect the actual cost of the contract, and which make an "apples to apples" comparison of suppliers' bids rather challenging.
The price per kWh is the starting point. Key points to consider when evaluating a contract are:
Are there extra supplier imposed costs such as meter or administrative fees?
When are payments due after billing?
What are the late fees?
What is the cost of an early termination?
How is force majeure defined?
Other than a force majeure event, can a supplier impose additional requirements?
Are there penalty clauses, and if so, are there opportunities to cure?
Is it a full-requirements contract or are there usage penalties?
Lastly
Make sure you understand what will occur at the end of the contract term. Most, but not all contracts have automatic rollover provisions; some are reasonable, others not. You will almost always be better off looking to extend or replace a supply contract several months prior to its actual expiration. If you contract though UtilityDiscount.com, we will do our best to alert and remind you to take action prior to contract expiration.

If you prefer, utilitydiscount.com can handle the bid and contract process for your business account with our Concierge Service.
Affinity Programs offer significant revenue sharing opportunities that can be co-branded for presentation to your members, customers and tenants.
CONTACT UTILITY DISCOUNT Toll-Free At (866) 667-9322