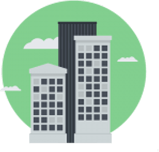 Compare Commercial Electricity Rates in Massachusetts
Start Saving Money on Your Commercial Energy Costs
Utility Discount can help you compare commercial electricity rates so your business can find the best energy rates in Massachusetts. Choose a new plan in minutes and save on your business' electric bill.
In the boxes below, please select gas or electricity for Energy Type. For Service Type, if you spend less than $2,000 a month, select "Small Business"; for over $2,000, select "Commercial".
[just_icon icon_type="custom" icon_img="1117|https://utilitydiscount.com/wp-content/uploads/2015/05/Flat-Icons-12-24.png" img_width="256″]
COMPARE ENERGY SUPPLIERS IN MASSACHUSETTS TO GET THE BEST DEAL
The state of Massachusetts has deregulated its energy sector in 1998. Since then consumers have the power to compare energy suppliers in Massachusetts and choose the supplier offering the most optimized rate. Energy deregulation covers supply to both residential and business properties and gives consumers the choice to compare the energy plans of all suppliers. The plans may include short-term, long-term, special add-ons, and even renewable energy. The deregulation act allows more than 2.5 million residents of Massachusetts to pick their suppliers. Since residential and business consumers in the state pay some of the highest electricity rates compared to the national average, they must exercise the option of choosing the best electricity prices according to their needs.